So yesterday was an eventful day to say the least. Work and class were just the usual. The excitement started in the afternoon when we went out for a sail on my friend Will's new Kelley 27. It was nice relaxing sail with Will, Jenn, Steve and Me. We headed in to Tampa Bay and got a great view of the sunset and it was nice and relaxing. Next, on the way back to port, with the shifting tides, we actually got pushed out of the channel and fudged the keel in to a sand bar therefore running us aground. Now at this point, it's late and we paged EC-SAR, Eckerd College Search and Rescue, to come and tow us off, a free service they provide. The problem with this was, EC-SAR never responded to our pages. We sent a total of three pages to EC-SAR and all of them went unanswered. EC-SAR never responded or acknowleged the calls. Thanks to our friends Joe and Brett, they launched Joe's boat and came to tow us off the sandbar and back to port. Time returned home: 04:15 am after waiting for EC-SAR since 12:30. Never were we in any danger but when you are paging a team that is supposed to help, it's a pain in the rear. EC-SAR needs to look at their notification issues ASAP and in the meantime, thank you Joe and Brett.
The good news is that I at least got these nice pictures: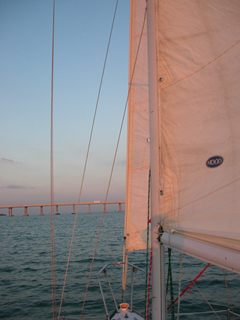 Looking forward yesterday as we come under the first span of the Sunshine Skyway.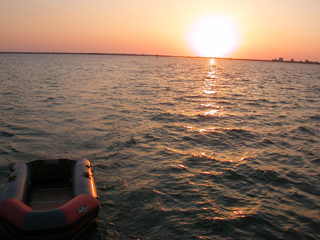 Sunset looking back to port.
Now, I am off to get some needed sleep.