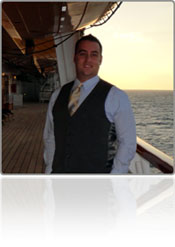 Welcome to my website. My name is Tom and I recently relocated back to Minnesota to take a position with Optum. Before relocating, I spent the past 12 years with Walt Disney Parks and Resorts supporting our operations around the globe. I have held various roles at the Magic Kingdom® Park and Disney's Animal Kingdom® Theme Park in Merchandise, Attractions and Guest Service.
I am originally from Minnetonka, MN, a suburb of Minneapolis where I graduated from Hopkins High School. I started at Eckerd College in St. Petersburg, FL after taking a semester off from UNH. While at Eckerd College, I was an active member of our campus and was even nominated for Most-Outstanding Third Year student and received the Eckerd Giver Award for outstanding leadership and service from the Dean of Students. I graduated from Eckerd College with a degree in Environmental Studies and minors in Human Development and Communications.
So why the name Webby Aquatics? Webby Aquatics was the first name I came up with for my original website which I used to sell my services as a Lifeguard Instructor and Water Safety Instructor. It was simply a combination of my nickname, Webby, and my love for the water, aquatics. Since then, the site has evolved in to more of a personal site and is now dedicated to my blog on life.
So I hope you enjoy and feel free to leave me any feedback or comments. Have a magical day!
The views and opinions expressed on this site are mine and do not necessarily represent or reflect those of UnitedHealth Group or The Walt Disney Company.